I'm really starting to get excited about my trip to France. I must admit that when we originally decided to go, I wasn't that excited. I really want to get back to Thailand and to places like Vietnam, Laos, Cambodia and South Korea so my thoughts were clouded by the recognition that a tript to France would put that dream vacation off for awhile. But as the time has drawn near and I've finally committed to a loose itenerary, I am totally psyched about France.
I just found out that I'll be staying at this incredibly cool Bed & Breakfast in Bayeux, it is called the Manoir de Doyens and it was built in the 17th century. Here's a picture.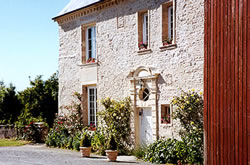 The B & B is owned by a retired British Colonel, a M. J.P. Chilcott and his wife. He is a military historian and is famous for his private tours of the D-Day beaches and surrounding areas. We'll be staying in the attic, which suits me just fine. Bayeux is located in Calvados and is famous for its tapestry, war museums and enchanting villages. This is all very exciting. Here's what the room looks like.
Tonight I've got to start packing. I leave Missoula tomorrow at 2:00 PM and will arrive (after a night stopover in Minneapolis)in Paris at 11:50 AM on the 17th. A Dutch friend of Annie's recommended a place in Montmartre, that is in a very quiet and unspoiled area called
Hotel Caulaincourt Square
, then it's off to Ennordres and Les Chatelains for the two day wedding.
Yesterday I went a little crazy and bought a digital camcorder...hey, it was on sale! Today I have buyer's remorse so the camcorder might just be going right back to Best Buy, but if not you can expect me to learn how to edit and post movies to my blog.
Time to pack.