Category: Music
Genre: Country
Artist: Various Artists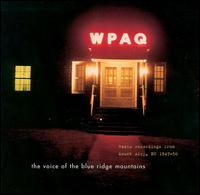 This is the review done by Tom Sheridan at allmusic.com:
These on-air recordings made between 1947 and 1950 at the Mount Airy, NC radio station offer a fascinating snapshot of the musical milieu of the time. From breakdowns like "Old Joe Clark" by the Gurney Thomas Band to the gospel harmony of "I'm Living Down Here on Borrowed Land" by the Silvertone Gospel Harmonizers, it's priceless material.
-----------------------
I'll add to it that these recordings hearken back to a long gone era for me. Sure, we had TV growing up but our family spent alot of time listening to the radio and to old albums. My Dad's folks had a 78 record player too. But most of all these recordings make me think of my Grandpa Orville, Mom's Dad who was a Kentuckian through and through.
For anyone who has a music library and appreciates old timey music, this CD is for you